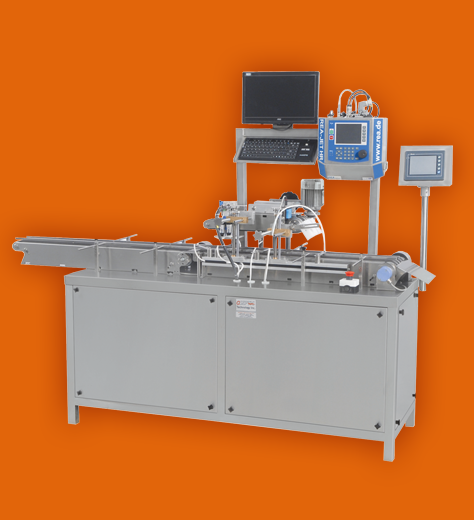 Track & Trace
Bar-coding Solution
As a part of continuous development to cater requirements of pharmaceutical companies we are proud to introduce Track & Trace System catering Primary Packaging, Secondary Packaging as well as Tertiary Packaging Bar coding requirements as per DGFT / MoHW & GS1 guidelines. Highlights of our system are as below:
Track & Trace System features :
Track & Trace System comprising of :

Conveyor Belt
Online Barcode Printer
Camera Inspection System
Online Rejection system

Online / Offline Barcode Printing Solution.
Printing solution on Vial, Blister, Secondary Packaging, Tertiary Packaging
Solution for printing Barcode on Variety of surfaces
Printing speed up to 250 pcs / minute
Bar Code Printing & Vision Inspection Control Panel
Inspection system with Bar Code Grade verification
Centralized Smart Track Server Application with MIS Reports.
Multi Location / Multi Plant / Multi Lines Solutions without continuous online connectivity
Predictive Unique Random Serial generation ( URS )
No repetition of Unique serial across any of Primary / Secondary / Tertiary packaging for robust management
No recurring charge for buying unique serial numbers
Barcode printing & Record keeping as per DGFT / MoHW / GS1 guidelines.
Compatible with Multiple Bar Code 1D / 2D Symbologies.
Batch Planning on different packaging stations & allocation with scheduling features.
Single Batch packaging allocation to Multiple Packaging stations
Multiple packaging style configuration for same product variant.
Shift wise user management and operator logins with reports.
Very simple packaging operator interface with Rights and Shift Timing Management
Tested and proven for billions of serial records without hampering production packaging speed.
Customized Report as per requirements
Import / Export of data with existing ERP
Can be configured for country specific regulations for export requirements
Compatible with tomorrow's ePedigree requirements
Backend MS SQL Server / Oracle
Auto Database Backup Solution in compressed form.
Completely In-House setup at your premises for secured supply chain data.
Other key factors :
25+ years of experienced team
Single Vendor solution for Complete Track & Trace System.
Software developed on Windows Platform using .NET
21 CFR Part 11 compliant software
Easy to Operate & Teach